First Christian Church of Joplin, Missouri was formally organized in 1874.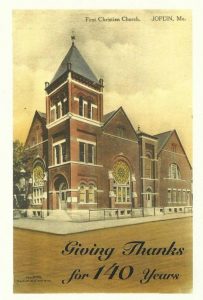 In the fall of 1867, Isreal Patton led an immigrant train from Indiana to Southern Missouri, settling just southwest of Joplin. Being an ardent member of the Christian Church, he was soon holding services in the "Grove." Shortly after the beginning of these meetings outside, the use of a log schoolhouse was secured and served as a sanctuary for several years. The regular church edifice was a two-room log meeting house. Hand-hewn logs with a pine lumber ceiling and floors, as well as six windows and casing were furnished by J.A. Miles. This building stood just north of what is now Central City and was known as Short Creek Christian Church.
The present organization was formed in the old brick Presbyterian Church on the corner of 4th & Pennsylvania Avenue. The church met in the Cumberland Presbyterian Church and then began meeting in the old city hall on Broadway. After a short period, they were offered the use of a Baptist Church building at the corner of John and Hiss Streets. The congregation moved to Howel Hall on Broadway where they stayed for a short period and then moved to Forbes Hall. In a few months, Forbes Hall was sold for a medical institute and the church again found itself without a home.
For a while, meetings were held in homes but – this being unsatisfactory – the church resolved to build a home of its own. A lot was purchased for $50.00 at the corner of 4th & Pennsylvania and a 40 x 60 foot building with a 16-foot ceiling was erected at a accost of about $2,000.00.
The present building at 4th & Pearl, which cost $25,000.00, was erected in 1901. The Family Life Center building was completed and opened for usage on November 16, 1997.